Hellmann's Classic Mayonnaise (4x3.78L)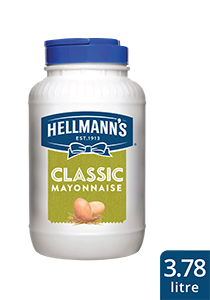 Hellmann's Classic Mayonnaise (4x3.78L)
How this product will help you:
Perfect for Hot & Cold applications without weeping.
Easy spreading without sogginess.
Diverse applications for sandwiches, burgers, salads and dips.
Authentic taste with thick, creamy and rich mayonnaise.
All product information
Key product information
Description
The best classic mayonnaise that you can get in the market with rich creamy savory taste, made with best quality ingredients for multi-purpose usage.
Product Component Packaging
4 x 3.78L
Usage information
Benefits
• Authentic taste with thick, creamy and rich mayonnaise
• Perfect for hot & cold applications without weeping and no soggy sandwiches
• Better binding and coating properties vs competitor products
• Diverse applications for salads, sandwiches, burgers, and dips