British Fish & Chips with Minted Pea's
A world-renowned classic British dish, this Fish & Chip recipe with minted peas is a firm favourite. Give the recipe a try and add to your menu today.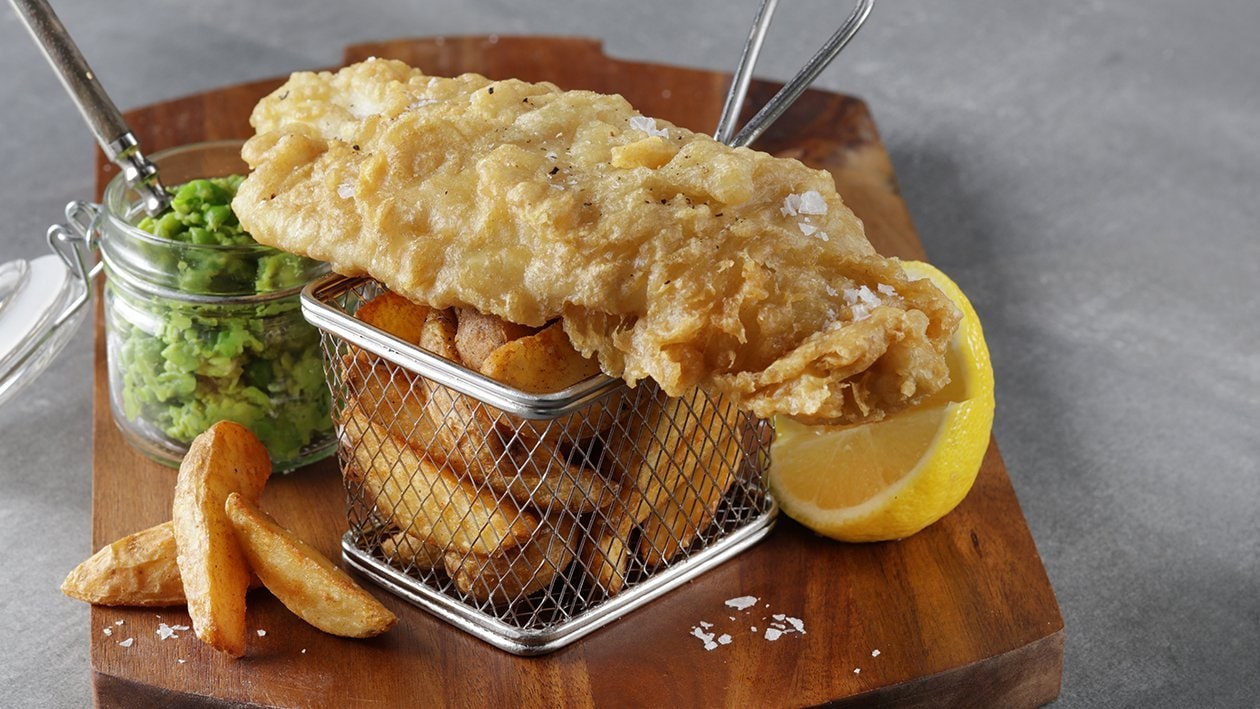 Ingredients
Minted Peas:
Chips:
Batter:
Mullet fish fillets, sliced

2.5 kg
Preparation
Minted Peas:

Sauté onions, garlic & ginger until light brown. Add the peas and cook until soft. Season with salt, pepper and Knorr Lime Seasoning before mashing with a hand blender until your desired texture.
AddHellmann's Classic Mayonnaise for that extra richness.

Chips:

Soak your chips in cold water for 5mins or so to remove starch. Rinse well under running water then simmer them in salted water for 7-9mins. Chips should still hold its shape.
Drain them well and lay them onto baking tray. Put them in the freezer for 30mins or so to dry them out.
Heat your frying oil to high temperature and fry the chips until lightly coloured.
Now, place your chips on a baking tray in the oven at 180°C and bake them for about 20 mins or until chips are dark golden brown around the edges.

Batter:

Marinade the Fish fillets with Knorr Coating Mix- Spice Marinate (100g) for 20 minutes in a refrigerator.
Make batter by mixing Knorr Coating Mix – Coating Base powder (40g) and wheat flour together and sieved twice to a Tray.
Mix the sieved flour with iced water gradually and prepare a smooth thick batter.
Dip the marinated fish fillets in the batter and deep fry at 180°C until golden brown.