Smoked Beef Burger with pickled vegetable Relish
Our chefs came up with a traditional smoked beef burger recipe that optimizes the taste with pickled vegetables. Our signature mayonnaise helps bring all the ingredients together. Try this out on your menu, we can guarantee it will be an instant hit!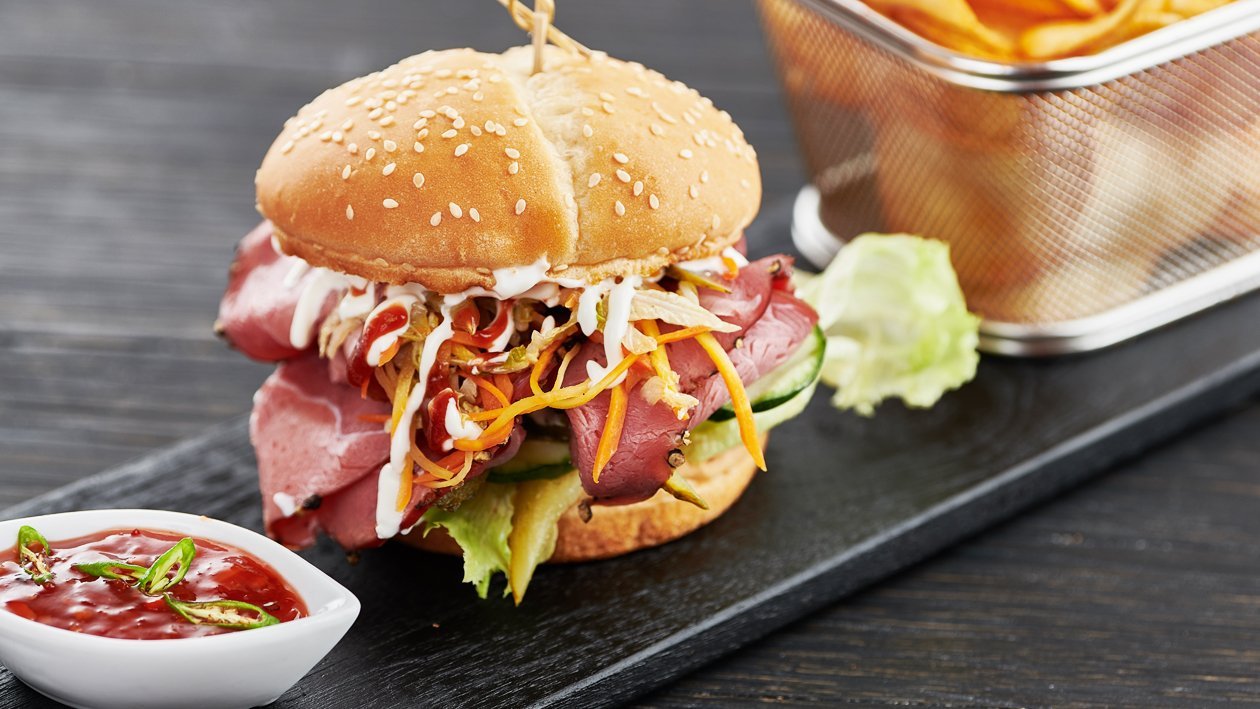 Ingredients
Pickle Relish:
Apple cider vinegar

200 g

Carrot, cut into medium strips

200 g

Chinese Cabbage , sliced

200 g
Build the Burger:
Large onions, cut into rings and separate

200 g

Green cucumbers, thinly sliced in to ribbons

200 g

Smoked beef, sliced

500 g

Hellmann's Real Ketchup (4x5KG)

200 g
Preparation
Pickle Relish:

Combine water, Apple cider vinegar, sugarand Knorr Aromat Seasoning Powder together; bring to boil, first add carrots then after two minutes add Chinese cabbage.
Simmer 30 seconds; strain carrot and cabbage from the liquid, allow to cool both liquid and the filling separately; then combine both after cooling.

Build the Burger:

Cut and grill the submarine buns until golden brown.
Top the bottom halves with the Hellmann's Real Mayonnaise, iceberg, onion, cucumber, smoked beef and pickle relish, Hellmann's Real Ketchup, Hellmann's Real Mayonnaise and cover with the hamburger bun tops.
Served with fried potato wedges and Hellmann's Real Ketchup.