Chicken Roti with Coriander Garlic Mayo
In Sri Lanka fusion dish meshed with the South-East Asian style of filling. The filling consists of 3 layers: Potato and herb, chicken and classic onion carrot sauté. The roti pastry is unique and creates crispy layers. To round it off, we recommend having a Coriander and Garlic mayo dip on the side for maximum guest & customer satisfaction!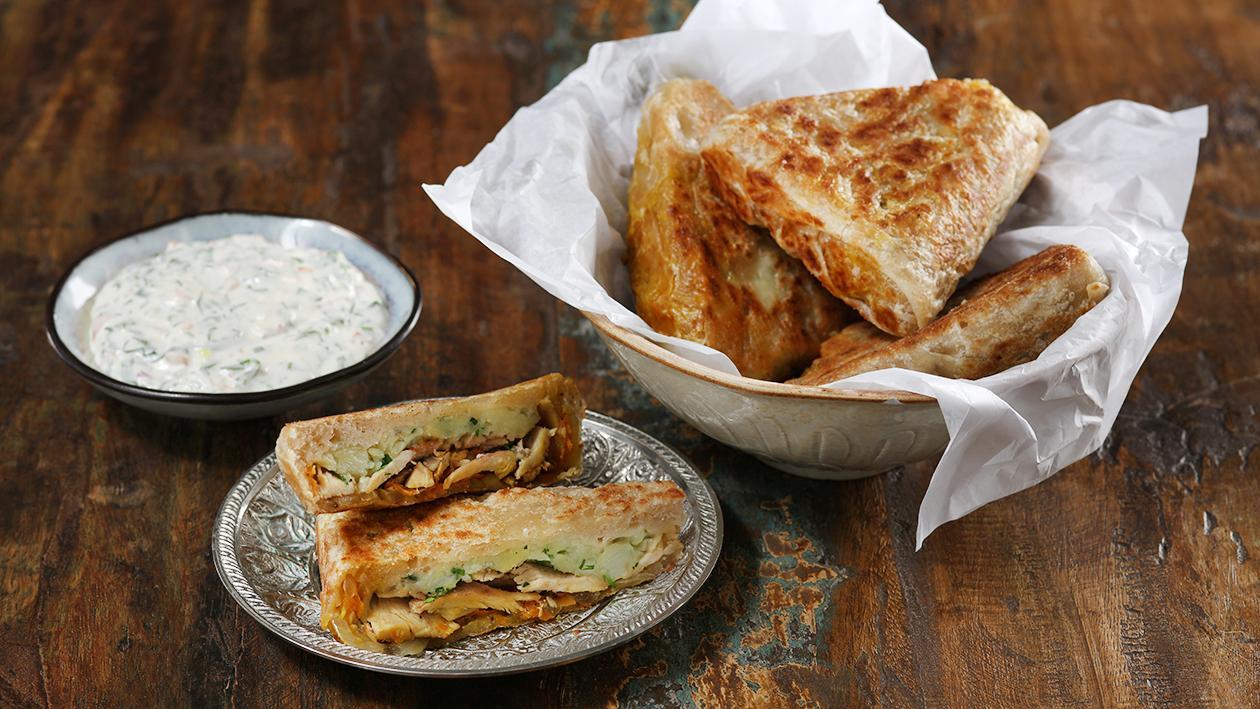 Ingredients
Chicken Filling:
Chicken thighs, deboned

1 kg

Potatoes boiled, mashed roughly

700 g

Astra Fat Spread (1x5KG)

50 g
Preparing the Dough:
To Serve:
Fresh coriander - Roughly chopped

30 g
Preparation
Chicken Filling:

Sweat off the onions and carrots in Astra Fat Spread before adding the garlic, ginger, mustard seeds andchilli and cook till soft. Keep aside as this is one of 3 layers.
Marinade chicken with Knorr Chicken Seasoning Powder,chilli flakes, curry powder and oil for minimum 2 hours before grilling until golden brown. Shred the chicken into small strips. This is the third and final layer of the roti.

Preparing the Dough:

By hand mix into the flour 20ml oil, salt & approx. 200ml water until a soft and flexible dough is formed. Not dry at all but also not wet, you need to shape small 60 -80g balls. Place these in a bowl and cover with 30ml of oil for 2 hours. Overnight also works.
Spread the dough balls out until very thin and transparent.
Shape the 3 layers (potato, chicken, onion mix) into triangles and fold the dough around this similar to making a samosa. Corner over corner. Repeat until filling is covered and layers are created.
Note: Once shaped you must cook off the roti's in pan or grill plate as quickly as possible until golden brown.

To Serve:

Combine a ready to go Hellmann's Classic Mayonnaise, coriander and garlic, serve on the side with the roti's hot.