Pulled Beef Scone Sliders
Scones are perfect for lunch or dinner. Check out our twist on a British classic, these pulled beef scone sliders will make a great addition to your menu.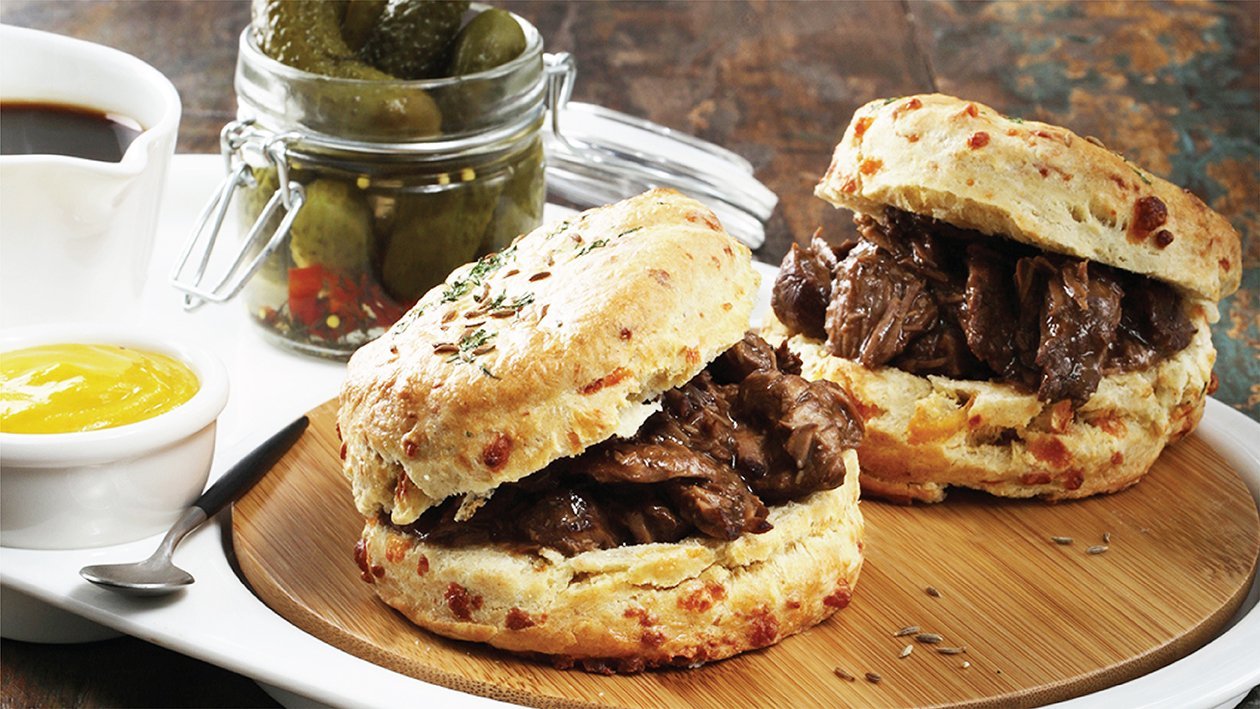 Ingredients
The Dough:
Butter, small cubes, cold

220.0 g

Cheddar cheese (grated)

75.0 g

Mozzarella Cheese, grated

75.0 g

egg white, mixed with water for egg wash Flour, for kneading

2.0 pc
The Filling:
Pulled Lamb Loin, slow cooked

1.0 kg

Worcestershire sauce

40.0 ml

Black pepper, cracked

5.0 g

dill, pickles chopped

150.0 g
The Demi Glace Sauce:
Preparation
The Dough:

Sift flour, salt, baking powder, baking soda into a mixer, add cold butter and mix until coarse crumbs.
Add eggs, milk and yogurt and mix on low speed, add cheeses and keep mixing until incorporated.
Take the dough out of the mixer and knead on lightly floured surface for 1 minutes. Roll dough 1.2 cm thickness, cut with 6 cm cookie cutter.
Brush with egg white and water, sprinkle chopped dill and cumin seeds. Lay on parchment paper and bake in oven on 180°C for 10-12 minutes.

The Filling:

Place pulled Lamb, water, and Knorr Demi-Glace Brown Sauce Mix on medium heat, add Worcestershire sauce, season with salt and pepper and bring to a simmer until incorporated and thick. Keep warm.
Open warm scones in half, and start by adding Hellmann's Classic Mayonnaise, top with pulled Lamb mix, add pickles and finish with English Mustard , serve with Demi- Glace sauce on the side.

The Demi Glace Sauce:

Place 500ml water into a pot, whisk in the Knorr Demi Glace Powder and bring to the boil stirring continuously; Serve on the side.