Knorr Lime Seasoning Powder (12x400G)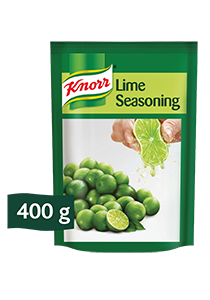 Knorr Lime Seasoning Powder (12x400G)
How this will help you?
No seasonal variation - We only pick the best limes in season.
Save time - No cutting and squeezing.
No waste - With zero effort.
All product information
Key product information
Description
Knorr Lime Seasoning Powder is a versatile seasoning with the refreshing taste of lime, perfect for many food and beverage applications. The real sour taste and aroma of the best limes all year around. A 400g pack is equivalent to 6kg of fresh limes.
Product Component Packaging
12 x 400 g
Usage information
Benefits
• Made with real lime
• Consistent sourness and aroma
• No cutting or squeezing
• Less storage
• Less wastage
Tips
• perfect for many food or beverage applications.
• No different to fresh.
• Minute to prepair.