Knorr Ikan Bilis Seasoning Powder [Sri Lanka Only] (6x1KG)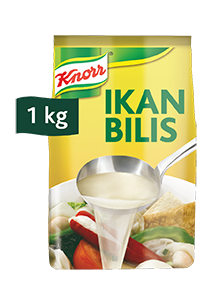 Knorr Ikan Bilis Seasoning Powder [Sri Lanka Only] (6x1KG)
How this will help you?
Authentic taste and aroma of fish.
Consistent taste and quality helps to deliver the same fish filling taste every time.
Diverse application for seasonings, stocks,soups, sauces and other savory dishes.
More product and allergy information
All product information
Nutrition and allergens
Ingredients
Salt, Maltodextrin, Flavour Enhancers Used-[Monosodium Glutamate-E621, Disodium 5'–Guanylate-E627, Disodium 5'–Inosinate-E631], Anchovies (Ikan Bilis) powder, Sugar, Hydrolyzed Vegetable Protein, Onion, Palm Fat, Ginger, Garlic, Pepper
Allergen Information
May Contain traces of cereals containing gluten, fish, crustacean, soy, egg, milk, mollusc ,peanut and tree nuts.
Per 100 g/ml
Energy
821.00
Energy
196.22
Carbohydrate, by difference
32.30
Sodium, Na
15,190.00
Protein
10.60
Fiber, total dietary
0.8
Total lipid (fat)
2.70
Fatty acids, total saturated
1.300
Sugars, total
5.80