Knorr Tomato Pronto (6x2KG)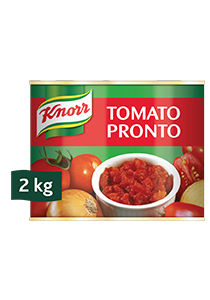 Knorr Tomato Pronto (6x2KG)
How this will help you?
Helps to deliver authentic Italian dishes.
Consistent taste and quality in every time.
Time and cost saving in preparing the tomato concasse.
No waste - with zero effort.
All product information
Key product information
Description
Made from sun-ripened tomatoes from the Emilia-Romagna region in Italy. They're cooked, peeled, de-seeded, and cut into a unique concasse, giving you the perfect base for tomato sauces and soups.
Product Component Packaging
6 x 2 kg
Usage information
Benefits
• 100% sustainably sourced tomatoes
• From farm to tin in less than 24 hours
• 2kg tin contains 3kg of tomatoes
• 77% tomatoes and 18% tomato concentrate
Tips
• Ready to use chunky tomato concasse.
• Can to plate solution.
• Authentic Italian tomato flavor.