Osso Bucco with Risotto Milanese
A slow braised veal shank with saffron risotto, this classic dish is an Italian favourite. Try the Osso Bucco with risotto milanese recipe today.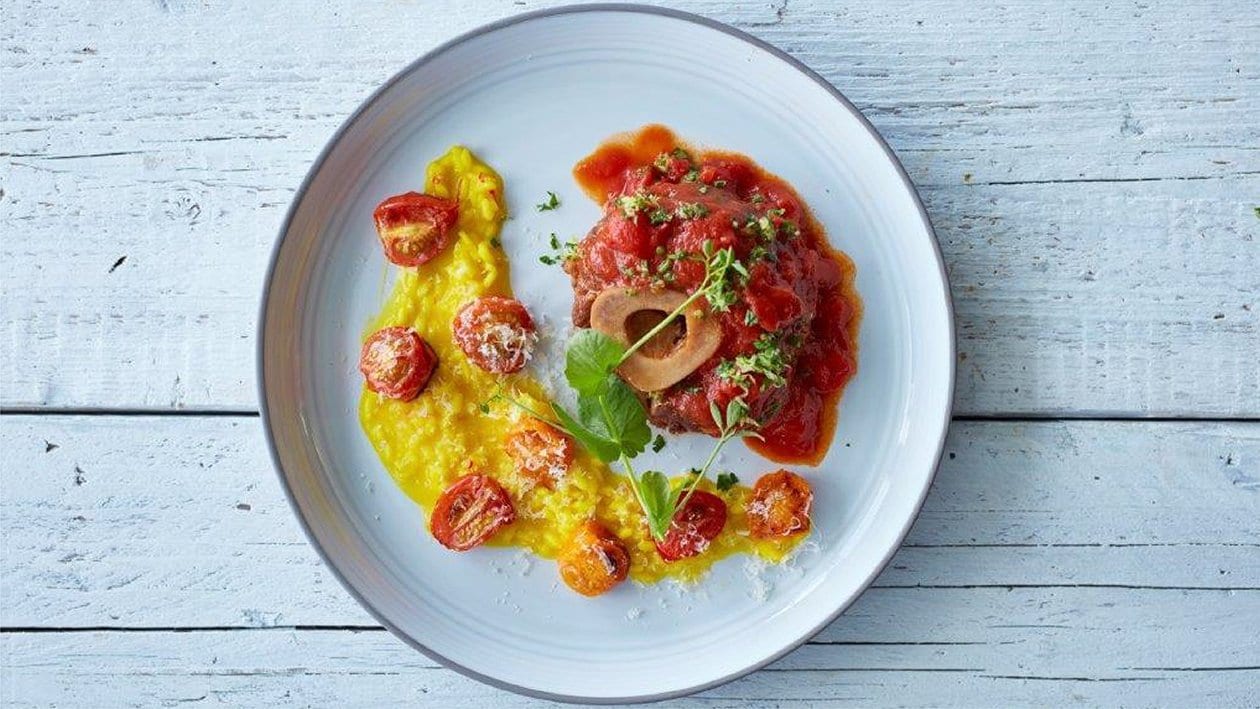 Ingredients
Osso Bucco:
Garlic - finley chopped

5.0 g
Risotto Milanese:
Red onions, finely chopped

80.0 g

Astra Fat Spread (1x5KG)

50.0 g

Parmesan cheese, grated

80.0 g
Gremolata:
Preparation
Osso Bucco:

Season the veal shanks with salt and pepper. Fry the shanks in oil until golden brown.
Remove the shanks and fry the onions, garlic and carrot, add Knorr Tomato Pronto.
Prepare Knorr Demi-Glace, by simmer with hot water until just dissolved and add to the shanks.
Add herbs and bring to boil.
Put the sauce together with shanks and vacuum in a vacuum bag. Prepare sous-vide for 6 hours on 85 degrees Celsius.
Take the shanks out of the bag and keep them warm, blend the sauce, sieve and season with salt and pepper to your desired taste.

Vegetables:

Cut the tomatoes and dry the on a low temperature (80 degrees Celsius) in the oven until they are half dried.

Risotto Milanese:

Fry the chopped onions in olive oil without coloring. Add the rice and fry it gently for 2 minutes.
Add the saffron.
Dilute Knorr Aromat Seasoning Powder, in hot water and add in small steps to the rice. Stir on a low fire.
When the vegetable stock is soaked into the rice and the rice is "all dente" add the Astra Fat Spread and the parmesan cheese.
Season if necessary with salt.

Gremolata:

Chop the parsley and the garlic.
Mix with the zest of the lemons.

Plating:

Put the veal shank on warm plate and cover it with the tomato sauce.
Plate the risotto and put the dried tomatoes on top.
Finish with the gremolata and some extra parmesan cheese.