Christmas Pavlova
A truly festive dessert, Pavlova is light, airy, and full of colour. Check out this recipe and learn how to create your own unique Christmas Pavlova.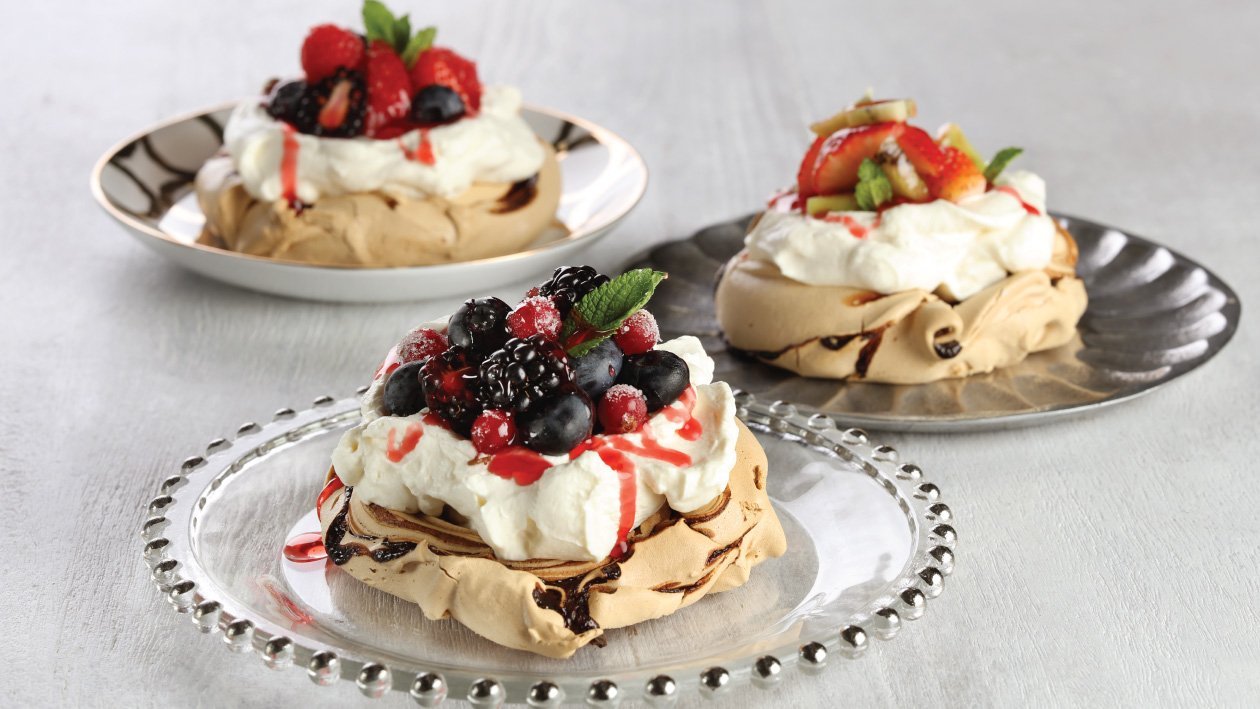 Ingredients
The Pavlovas:
Dark chocolate, coarsely chopped

75.0 g
The Topping:
Fresh cream, whipped

300.0 ml

Strawberry Topping

200.0 g
Preparation
The Pavlovas:

Preheat oven to 190˚C and line 2 baking sheets with baking parchment paper.
Break the orange flavored chocolate into small bowl, melt over a bain-marie, remove and cool completely.
Place egg whites and a pinch of salt in a large bowl.
Use an electric beater to whisk until soft peaks form.
Add sugar, a few tablespoons at a time and whisk well between each addition, reserving 2 tsp of sugar for later.
Once the sugar has been added the meringue should be very stiff.
Sift corn flour over meringue and fold through very gently.
Mix 2 tsp of sugar with white vinegar and vanilla essence and fold into meringue until well mixed.
Take a tablespoon of the mixture at a time and place on tray.
Drizzle with some chocolate and with a spoon swirls to make a 9cm circle.
Take another spoonful of meringue and add to the top of each circle.
Drizzle over more chocolate then swirl to spread the mixture into 12cm circles.
Making a slight dip in the center of each for the filling.
Cook for 5 minutes, lower the heat to 110˚C and cook for 45 minutes.
Remove the pavlovas, keep them on the parchment paper in the fridge until completely cold.

The Topping:

Whip the cream.
Top on pavlovas.
Top with fresh fruits.
Drizzle with Carte D'Or Strawberry Topping and chocolate flakes.