Knorr Demi Glace Brown Sauce Mix (6x1KG)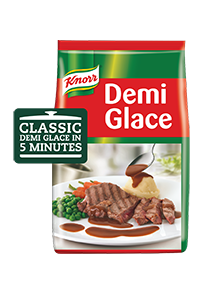 Knorr Demi Glace Brown Sauce Mix (6x1KG)
How this will help you?
Authentic taste, colour and viscosity like scratch.
Consistent taste and quality every time.
Perfect base for sauces and stews.
Eliminates costly obstacles like gas and labour.
All product information
Key product information
Description
Knorr Demi Glace Sauce gives you the full flavour and aroma of a classic Demi Glace in five minutes. It's a perfect as a base for your mushroom or pepper sauce.
Product Component Packaging
6 x 1 kg
Usage information
Benefits
• Dark intense colour
• Rich meaty taste
• Consistent quality every time
• Prepared in less than 5 minutes
Tips
• Perfect base for sauces and stews.
• Perfect solution to reduce food cost, energy and overheads.
• Great solution for any Brown sauce applications.