Knorr Biryani Mix [Sri Lanka Only] (24x500G)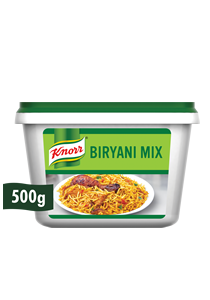 Knorr Biryani Mix [Sri Lanka Only] (24x500G)
How this will help you?
Brings you premium quality spices, i.e. Mace, Green & Black Cardamom, Bay Leaves, Nutmeg and Rose Essence without any hassle.
Consistent, real taste and aroma.
Does not limit you from adding your signature touch.
100% vegetarian.
All product information
Key product information
Description
Knorr Biryani Mix is a perfect biryani base that delivers REAL Taste and Aroma to your dish every time.
Product Component Packaging
24 x 500 G
Usage information
Benefits
• Brings you premium quality spices, i.e. Mace, Green & black cardamom, Bay leaves, Nutmeg, Rose Essence without any hassle
• Consistent, Real taste & aroma
• Does not limit you from adding your signature touch
• 100% vegetarian
Tips
Dishes that can be prepared:
• For all Chicken, Mutton, Seafood, Beef & Vegetable Biryani
• For all Sri Lankan Curry, India Masala & Kadhi
• As a crust topping for baked fish