Knorr Professional Spicy Marinade (6x900G)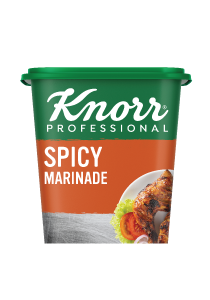 Knorr Professional Spicy Marinade (6x900G)
How this will help you?
Perfect blend of spices that does not overpower your dish.
No added MSG to ensure a natural taste to your dishes.
Can be used as a marinade for chicken dishes as well as seafood, lamb, mutton & vegetables.
Aromatic quality spice mix that maintains bright and vibrant color after grilling.
More product and allergy information
All product information
Nutrition and allergens
Ingredients
Red Chili Powder, Salt, Native Maize Starch, Garlic Powder, Cumin Powder.Contains traces of Sulphite
Allergen Information
Contains Sulphite (=/> 10 mg/kg)
Per 100 g/ml
Energy
803.00
Energy
191.92
Carbohydrate, by difference
35.00
Sodium, Na
16,097.00
Protein
6.70
Fiber, total dietary
17.3
Total lipid (fat)
8.70
Fatty acids, total saturated
1.500
Sugars, total
0.10