Meet the professional chefs who help make Unilever Food Solutions a source of inspiration for food businesses. Drawing from their extensive experience in professional food services, our award-winning team helps us create solutions for chefs that balance great taste, convenience and nutrition with a consistently high standard.
Apart from sharing creative ways to apply our products in a range of dish types, our chefs conduct in-kitchen skills, waste management, cost saving and storage trainings for our customers to ensure business efficiency.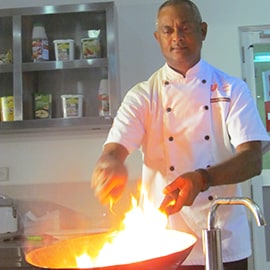 Saman Wijeratne
Consultant Chef – Sri Lanka
Chef Saman has over 40 years of experience in hospitality industry with an unbeatable passion for food and a bigger passion for teaching the wonders of culinary industry.
He graduated from the Ceylon Hotel School & School of Tourism, Sri Lanka with flying colours and was the winner of the Best Cold Kitchen Award in Professional Cookery awarded by the institute.
Today, Chef Saman wears many hats: culinary advisor, food consultant, lecturer and most importantly executive chef. He counts many years of experience at some of the top hotels in Sri Lanka. His work has taken him to diverse destinations - Dubai, Qatar and Australia, fueling his passion for cooking through the years.
Chef Saman has specialized in cold kitchen and during his time in the industry, he has won many Gold medals in the cold category at local and international competitions.
As a chef with a passion for teaching he has always believed in the famous quote by Charlie Trotter;
"Students need to learn how to think critically, how to argue opposing ideas. It is important for them to learn how to think. You can always cook."