Due to the coronavirus, restaurants and hotels have been asked to shut their doors. Even after the lockdowns are lifted, it is likely operations will shift more towards delivery and take-away, and diners will be evern more concerned about food safety and virus transmission from restaurant food. Here are seven ways you can reassure diners of the safety and sanitation of your food and operations.
On the Frontline: Best FOH Practices
Your diners deserve to know that your restaurant takes their health seriously, and this can be demonstrated with good FOH practices.
The examples below are some practices that restaurants have adopted – you can implement some of these best practices in your establishment, too, or even improve on them.
 

#1 Keep those hands clean with sanitizers
Placing a bottle of hand sanitizer at the entrance of your restaurant and visibly cleaning contact surfaces routinely  are some of the simplest, yet most effective demonstrations of care that you can give your diners. It shows diners that you care about the cleanliness of your restaurant, and their health.
#3 Provide masks to staff
All FOH and BOH staff should wear masks throughout the day. The masks serve the very real purpose of stopping any staff members who may be unknowing carriers from spreading the virus, while also providing diners with assurance that their food is "extra protected" during this period. 
#2 Tell diners what you're doing to keep them safe

Be vocal about the measures you're taking to keep the coronavirus at bay. Place posters and signs at the entrance of your restaurant informing diners  of safety measures that you've implemented.
 
#4 Protect your utensils or shift to sustainable disposables
Are your restaurant's utensils left in a communal area for diners to pick up? Consider placing them in bags or covering them instead, so any stray particles don't end up landing on the utensils.
Taking Charge in the Kitchen: BOH Practices to Assure Diners
Your kitchen may be out of sight, but that doesn't mean it's out of mind. You need to give diners assurance that your chefs and kitchen staff are just as committed to keeping diners safe, as their FOH colleagues. These are some best practices that you can implement BOH.
#5 Set (and enforce) personal hygiene standards
Basic hygiene standards that every kitchen staff should adhere to include:
A clean uniform that should be only used in the kitchen
Disposable gloves when handling raw and cooked food
A full apron worn by staff at different prep stations
Non-slip, fully covered shoes 
Short, clean fingernails
Neat hair
Clean hands that are washed frequently and thoroughly with soap
A mask to prevent any droplets from contaminating food
Wherever possible, kitchen staff should wear gloves to avoid touching food with their hands
A clean bill of health (i.e. anyone with any illness, or who is not feeling well, must be sent to home or to a doctor immediately)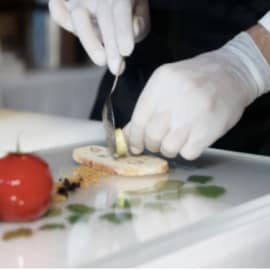 #6 Cooking food
During this period, it's especially important to cook food properly and safely. Any food that has been prepared for cooking should be cooked as soon as possible to avoid being left on the counter at room temperature – as this makes it a prime target for germs. 
Always cook food at its required minimum temperature, and if this means you'll need to remove an item from your menu in the meantime, you should do so. And if food needs to be reheated, ensure that the item reaches its required temperature according to ServSafe guidance.
#7 Washing vegetables
To further align your restaurant with HACCP (hazard analysis critical control point) standards, it's advisable to use a vegetable washer or sanitizer when washing vegetables. While this may not be a common practice, and doing so will add a little more preparation time to some dishes, it's definitely good practice to stay safe (and keep your diners free from germs) during this uncertain period.
While some of these practices are recommended specifically during this period of unease with the coronavirus, others should already be a part of your restaurant's regular practices. If not, this is an ideal time to implement (and keep) these practices – so your diners will be assured of your restaurant's quality and dedication to food safety, all-year-round.