Stuffed and Roasted Butternut with Red Feta Cream
Impress your vegan guests on Christmas day with this stuffed and roasted butternut squash with red feta cream recipe. A festive dish your guests will love.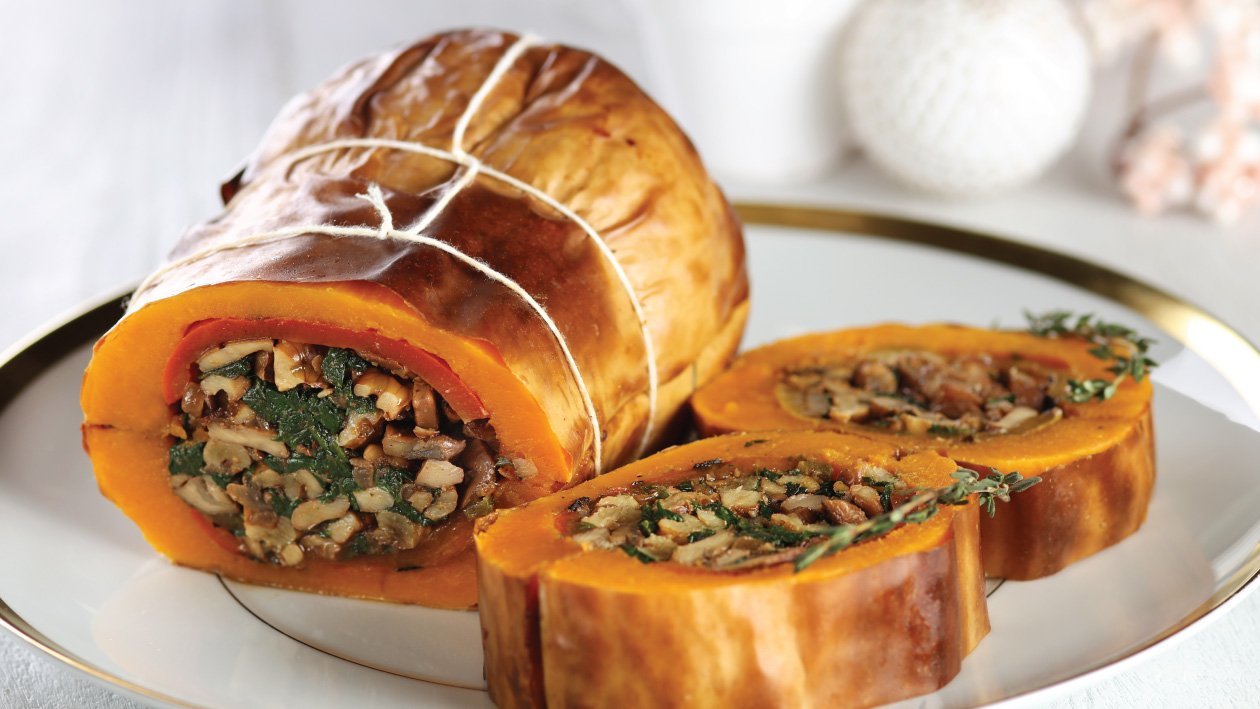 Ingredients
Butternut:
Butternut squash, whole, small

3.0 pc
Filling:
Button mushroom, thinly sliced

300.0 g

Cashew nuts, chopped

300.0 g

Red Bell peppers,thinly sliced

300.0 g

Capsicum, roasted

500.0 g

Spinach leaves, coarsely chopped

400.0 g
Red Feta Pesto:
Hellmann's Real Ketchup [Maldives Only] (4x5KG)

50.0 g

Feta cheese, crumbled

200.0 g
Preparation
Butternut:

Preheat the oven 190°C, Halve the butternut squash vertically and scoop out the seeds.
Line a roasting tin with nonstick baking paper. Place halves cut sides down, in the roasting tin and roast for 50 minutes, or until just tender.
Leave to cool for 15 minutes, then carefully turn the halves over and scoop out the insides along the length of each squash half, leaving an even, 3cm border of squash all around the edge. Be careful not to pierce the skin.
Reserve the scooped-out squash and season the hollowed-out halves with Knorr Aromat Seasoning powder.

Filling:

Sauté onions, mushrooms and crushed chestnuts; Season with paprika, thyme, parsley and garlic. Allow to cool down and keep for the layer of the butternut.
Use the grilled peppers to line the hollowed-out squash halves in an even, single layer. Divide the mushroom and chestnut mixture between the halves, pressing it down evenly. Evenly spoon the spinach over the filling in one half of the squash.
Put the two halves together to make a butternut squash shape and tie together several times along the length of the squash with kitchen string. Return to the roasting tin and bake for 20 minutes.

Red Feta Pesto:

Combine all the ingredients in a food processor to form a smooth paste, adjust texture with milk as needed.
Slice the squash thickly, discarding the string, and serve with the pesto sauce on the side and the garlic bulbs to decorate.