Spinach and Cheese Stuffed Schitzel
Try out this spinach and cheese stuffed Chicken Schnitzel recipe. Your guests won't be able to resist the succulent, golden-crispy finish. Check it out.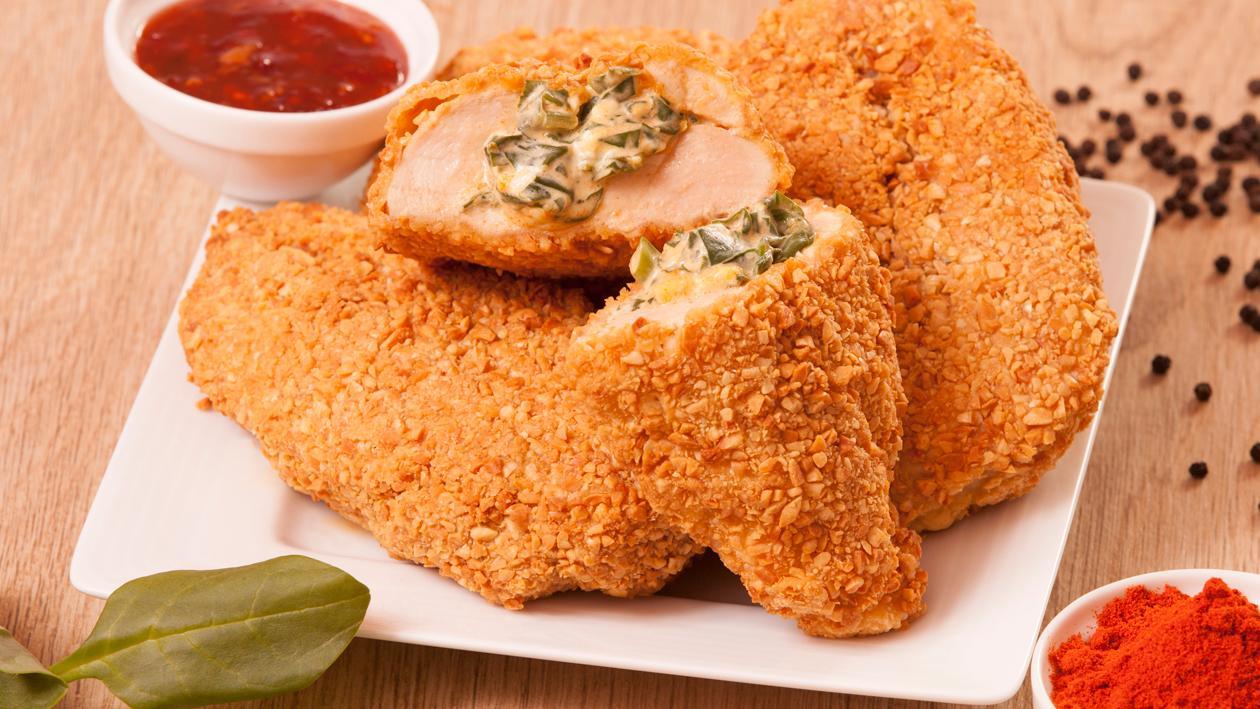 Ingredients
Method:
Chicken breast whole, boneless, skinless

10 nos

Baby spinach, blanched, pat dry and chopped

200 g

Hellmanns Real Mayonnaise (VNM-10) 4 x 3 L (Sri Lanka & Maldives) old

50 g

Eggs, whole, beaten

200 ml

Peanuts, finely crushed

500 g
Preparation
Method:

In a bowl; combine the spinach, cream cheese, pepper, chilli, Knorr Aromat Seasoning Powder, Hellmann's Real Mayonnaise, and garlic; stir to combine well; leave it on a side.
Cut a slit into the center of each chicken breast to make a pocket; combine with oil, cumin and Knorr Chicken Seasoning Powder well.
Take a heaping spoonful of the spinach & cheese mixture and pack it into the pocket; pinch the edges of the chicken closed.
Take each piece of stuffed chicken and roll it in the flour, shaking off any excess; dip the floured chicken in the eggs, then crumbed in the crushed peanuts, making sure to coat all sides evenly;
Repeat to crumb the remaining chicken.
Heat the oil over medium-high heat; fry the chicken until the crust is golden, remove and drain.
Serve with Knorr Thai Sweet Chilli Sauce.