Chicken Devilled Noodles
A delicious twist using Knorr Thai Sweet Chili Sauce, this Chicken Devilled Noodles recipe is ideal for both the Buffet and a la carte menus. Check it out.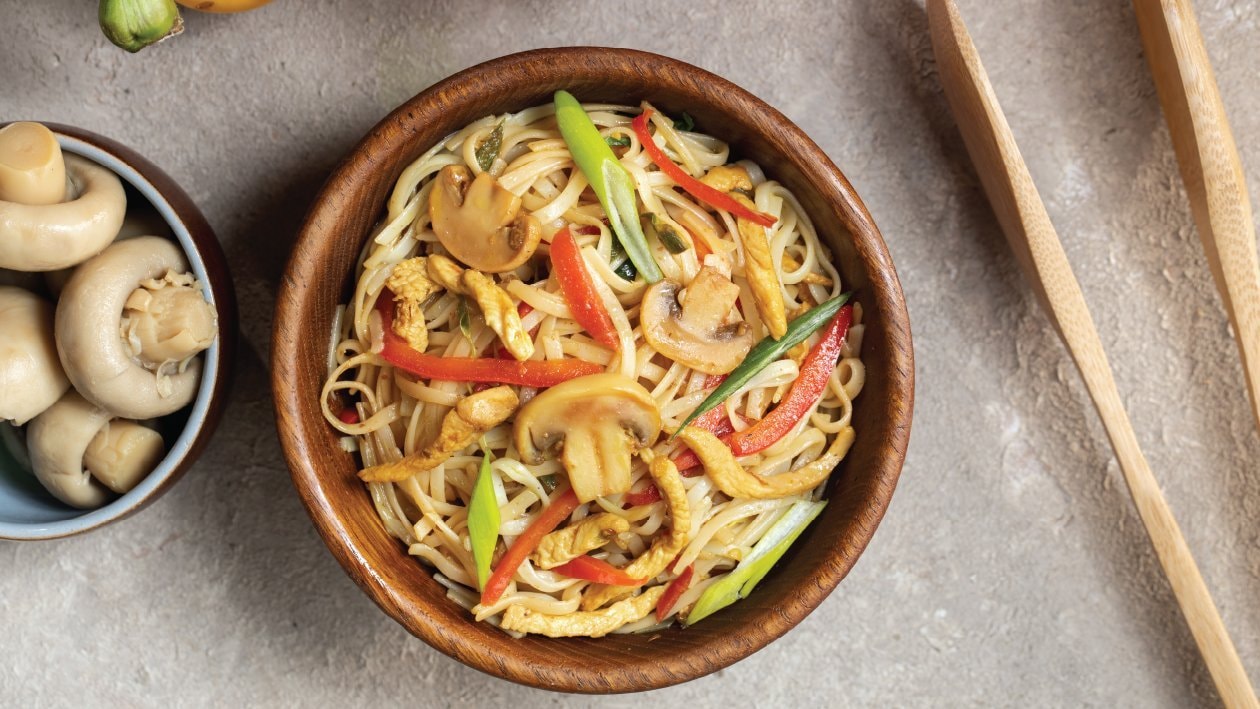 Ingredients
Chicken Devilled Noodles:
Groundnut oil (peanut oil)

160.0 ml

Green chilli, deseeded finley chopped

20.0 g

Fresh mushrooms, sliced

150.0 g

Capsicum, julienne

150.0 g

Chicken breast, cooked shredded

1.0 kg

Vermicelli rice noodles, cooked

1.5 kg

Crushed dried chilli

5.0 g

Spring onions, sliced

50.0 g
Preparation
Chicken Devilled Noodles:

Heat the groundnut oil in a wok, and when hot, stir-fry the ginger, chillies, mushrooms and turmeric for a few seconds. Cook for less than 1 minute. Add the red bell pepper, carrots, and bean sprouts and cook for another minute, then add the cooked chicken, and stir well to combine.
Add the noodles, and stir-fry well, for 2 minutes, then season with the chillies, Knorr Chicken Seasoning or Stock Powder, soy sauce, Knorr Thai Sweet Chilli Sauce, Knorr Oyster Sauce and vinegar. Stir to combine.
Add in the beaten egg, stirring gently until the egg is cooked through, less than 1 minute. Then, season with sesame oil. Sprinkle over the spring onions, and serve immediately.